California Audi Owners Are Tired of Leaky Sunroofs Damaging their Interiors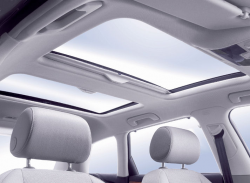 A sunroof class-action lawsuit has been proposed for all California Audi owners and lessees with defective, leaky panoramic sunroofs. It's widely believed that VW Group, parent company of Audi, used sunroof drainage systems with a serious defect. A difference in expansion rates is causing the plastic water channel to crack were it meets steel reiforcement plates. The water then heads through the crack and into the interior.
Lawsuit Notes ∞
The suit covers 2016-present A1, A3, TT, Q2, and Q3 vehicles.
The lawsuit says VW Group has been aware of the issue since 2016 as evidenced by nearly 20 technical service bulletins and "tech tips" sent to dealerships over that time.
A similar class-action was filed in the Eastern District of NY late last year.