Another Audi Start-Stop Lawsuit Says the Technology Causes Dangerous Acceleration Delays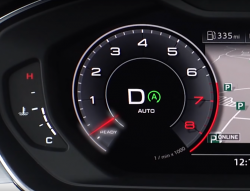 Audi's start-stop system is supposed to instananeously start the stopped engine once the driver releases the brake pedal. But a Virginia based lawsuit says the system suffers from defects that cause delayed acceleration or lurching that can put occupants in danger.
The plaintiffs say that Audi HQ and dealerships will just tell owners to deactivate the start-stop system if they don't like it. But the system starts up automatically each time the ignition is pressed and must be manually deactivated by pressing a separate burden. The plaintiff calls this a inconvenience and mandatory burden that is not disclosed to the Class Members ar the time of the sale.
Class-members include owners of many 2017+ Audi vehicles including the A3, A4, A5, A6, A7, Q3, Q5, Q7, and Q8.