Q8 Recalled For Transmission Leaks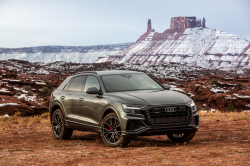 The Audi Q8 has been recalled because some transmission fluid pipes weren't welded properly. It's the same problem that led to a Porche Cayenne recall.
Audi didn't mention specific model years, but there's only two to choose from (2019 & 2020) so presumably it's both.
One thing they did mention is 530 of the SUVs are in the USA while 93 are in Canada. The recall is expected to begin in July 10th, 2020.