A Front Door Crash Sensor Problem Can Disable Airbag Deployment in Certain 2021 Audi Vehicles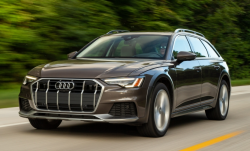 A small number of 2021 Audi vehicles have been recalled to replace the front door crash sensors. The sensors are part of a network that monitors for crashes and can deploy airbags and the seat belt pretensioners. The automaker thinks the electrical connections for these particular sensors can disconnect over time.
Quick Notes About Airbag Sensor Recalls ∞
Only 166 vehicles are recalled, including some 2021 Audi A6 allroad, Q7, RS6, and RS7 vehicles.
The recall was given ID #69BM and is expected to begin on January 31, 2021
Will someone please buy Audi a new soldering gun? Last year nearly 140,000 other Audi vehicles were recalled for loose sensor electrical contacts causing airbag deployment issues.