Canada Joins the Lawsuit Party Against Audi's Defective Start-Stop System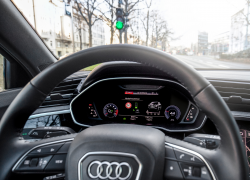 For the third time in three months Audi has been sued for failing to do something about their dangerous start-stop defects. It's almost as if owners don't appreciate suddenly losing access to their power steering and brakes while slowing down or not knowing whether their vehicle will accelerate through a busy intersection. ¯\(ツ)/¯
The accusations in this Canadian-based lawsuit are similar to previous cases.
Before the car comes to a stop the system shuts down the engine. That's fine. But it also shuts off the power steering and brakes. That's less fine.
When restarting from a stop, the acceleration hesitates and lurches. There's also a delay in getting the power steering to kick back on.
The case, Dusanjh v. Audi AG, et al., has been filed in the Supreme Court of British Columbia.