Settlement for Defective Timing Chains and Tensioners
Posted on

Author

Tagged
Key Points
Audi's EA888 engine has issues with the tensioners and guides in the timing chain system.
A loose timing chain can catastrophically destroy an engine.
Volkswagen agreed to settle multiple class-actions in one combined action by extending the new vehicle limited warranty for certain vehicles.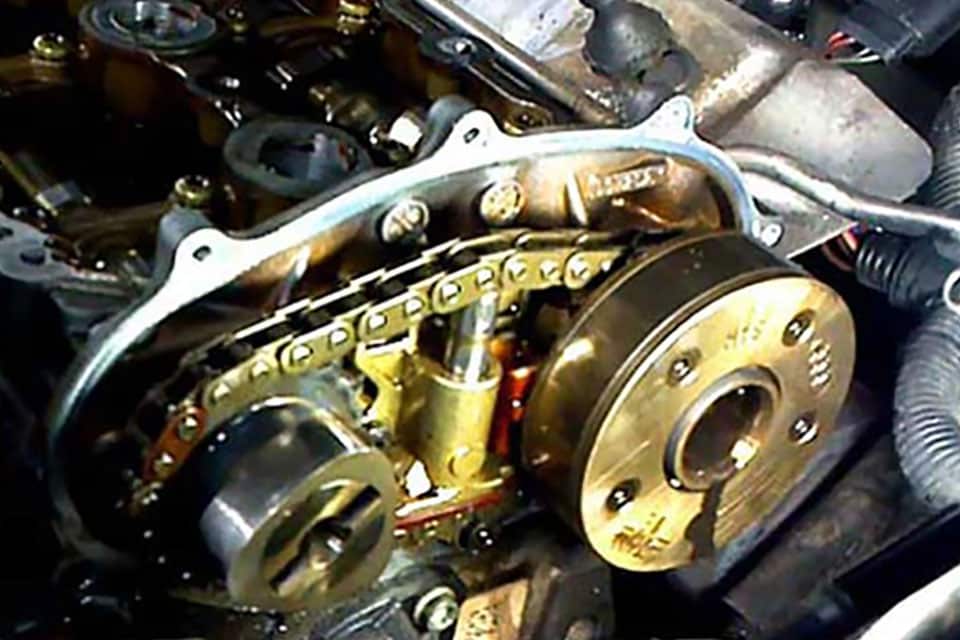 Timing chains are the critical link between the crankshaft and camshaft. Through a series of guides and tensioners, the chains are responsible for keeping the cylinder head valves in sync with the combustion chamber pistons.
If the timing chain becomes loose, either by stretching or a failed tensioner, there are serious problems ahead.
What's Happening in Audi's EA888 Engine ∞
One of the main reasons chains have replaced belts in high-displacement engines is their longevity. Volkswagen, parent company of Audi, says you shouldn't have to worry about timing chain maintenance for 120,000 miles in their own maintenance schedules.
So why are Audi's timing chains failing so early?
It's likely a timing chain tensioner failure. Tensioners make sure the chain is tightly wound to the pulleys and gears. If the tensioner fails and the chain becomes loose, the timing of the engine is thrown off.
Symptoms of a loose timing chain ∞
When a timing chain is loose you'll likely hear a rattle during startup or idling in the engine. The rattle might be accompanied by a check engine light triggered by sensors in the crankshaft and camshaft that are detecting timing issues.
With a loose timing chain you'll have trouble starting the engine or it might misfire while driving. That's because the timing between the valves and pistons are out of sync, and the combustion part of you internal combustion engine is busted.
If a loose timing chain isn't addressed immediately it could break, and cause catastrophic damage to the engine.
As the problems piled up, the lawsuits rolled in ∞
Audi began releasing Technical Service Bulletins (TSB) to its network of dealerships around 2010. The TSBs outlined how to respond to customer complaints about the timing chain.
One of the most popular responses was to accuse owners of improper oil and filter maintenance, and ask for records (including receipts) before doing any warranty work.
Fed up and facing massive repair bills, the first timing chain lawsuit was filed in May of 2016. It placed blame on the tensioner system and said VW should help pay for repairs.
Another class-action lawsuit soon followed by 24 plaintiffs in 17 states claiming the timing chains "jump a tooth" in the camshaft.
The lawsuits were eventually combined in a New Jersey court, despite VW's motion to dismiss the cases.
Volkswagen and Audi Timing Chain Settlement ∞
As the court fees piled up, Volkswagen agreed to settle 7 class-action lawsuits in one combined action in May 2018.
Extended warranty ∞
As part of the settlement, the following Volkswagen vehicles were given an extended "new vehicle limited warranty" to cover future repairs or replacements of the timing chains and tensioners.
| Model | Years |
| --- | --- |
| A3 | 2008-2012 |
| A4 | 2009-2013 |
| A4 Avant | 2009-2012 |
| A5 | 2010-2013 |
| A5 Cabriolet | 2010-2013 |
| A6 | 2012 |
| Q5 | 2011-2012 |
| TT | 2009-2012 |
| TT Roasdster | 2009-2012 |
Owners and lessees of the vehicles are automatically awarded the extended warranty unless they opted out of the class-action by December 3rd, 2018.
Note: You can find out which VW vehicles are involved in the settlement over at VWProblems.com
Reimbursements for timing chains and tensioners ∞
If you've already repaired or replaced the timing chain system, you may be eligible for a reimbursement if the service was done within 10 years or 100,000 miles of when the vehicle first entered service.
If the work was done at an authorized VW dealership, 100% of the cost will be refunded. Otherwise, a refund between $1,100 and $1,500 will be awarded depending on what needed fixing.
Two conditions of the settlement:
VW says they will not be responsible for any problems associated with timing chains or tensioners repaired by an independent service center, unless the parts were ordered from an official dealer and fail within 1 year or 12,000 miles.
There will be no reimbursement for out-of-pocket costs of any repairs or replacements to the timing chains, tensioners or engines if the work was performed more than 30 days after the settlement notice date by anyone other than an authorized Audi or VW dealership.
More details on the timing chain reimbursements. Still with me, good?
Reimbursements for engine damage related to a timing chain failure ∞
As part of the settlement, VW will reimburse you for expenses related to engine damage. However, an authorized dealer will need to make the determination if the timing chain was actually to blame. Who wants to place bets on if they'll make that process difficult?
Reimbursements for out-of-pocket expenses will be based on the following parameters.
The same parameters apply if an independent service center performed the engine work, but a maximum amount of $6,500 will be awarded.

OK, Now What?
Maybe you've experienced this problem. Maybe you're concerned you will soon. Whatever the reason, here's a handful of things you can do to make sure it gets the attention it deserves.
File Your Complaint

CarComplaints.com is a free site dedicated to uncovering problem trends and informing owners about potential issues with their cars. Major class action law firms use this data when researching cases.

Add a Complaint

Notify CAS

The Center for Auto Safety (CAS) is a pro-consumer organization that researches auto safety issues & often compels the US government to do the right thing through lobbying & lawsuits.

Notify The CAS

Report a Safety Concern

The National Highway Traffic Safety Administration (NHTSA) is the US agency with the authority to conduct vehicle defect investigations & force recalls. Their focus is on safety-related issues.

Report to NHTSA