Audi Vehicles With Dangerous and Explosive Takata Airbags
Posted on

Author

Tagged
Key Points
The Takata airbag recall is the largest automotive recall in U.S. history with more than 100 million vehicles affected worldwide.
The inflators become unstable over time and can rupture / explode during an airbag deployment, shooting metal fragments into the cabin.
The problem is responsible for at least 27 deaths worldwide.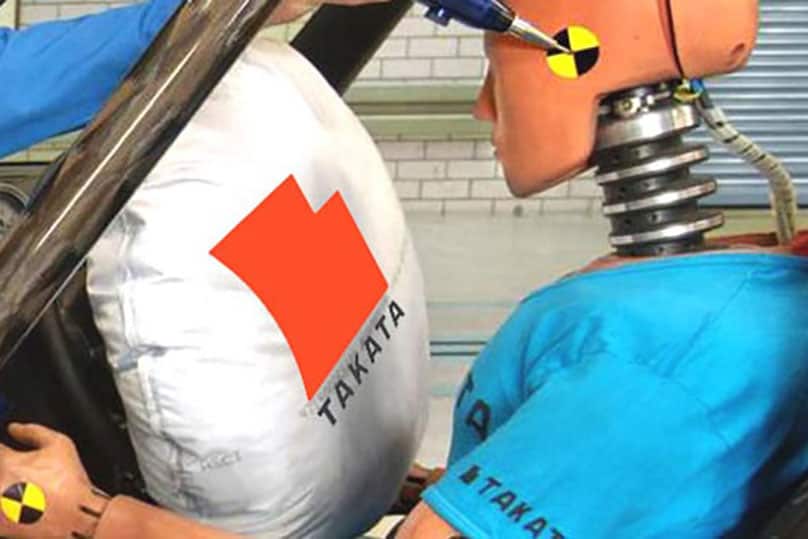 Takata's inflators use a chemical called ammonium nitrate to inflate the airbag during a crash. The ammonium nitrate can become unstable when exposed to temperature fluctuations or high humidity, causing the inflators to explode with an unexpected amount of force. How much force? Enough to rupture the metal cannister during a deployment and spray sharp fragments out into the cabin during a crash.
According to the National Highway Traffic Safety Administration (NHTSA), at least 15 drivers have been killed and 250 people injured by an exploding Takata inflator.
Which Audi Vehicles Have Been Recalled? ∞
Given the scope of these recalls, NHTSA decided to spread out the recalls to get replacements to owners in the highest-risk regions or zones first. The last wave of inflator-related recalls is expected to begin in early 2020.
A zone is a group of states and territories where a vehicle was originally sold or registered at some point in time.
Zone A: Alabama, California, Florida, Georgia, Hawaii, Louisiana, Mississippi, South Carolina, Texas, Puerto Rico, American Samoa, Guam, the Northern Mariana Islands (Saipan) and the U.S. Virgin Islands.
Zone B: Arizona, Arkansas, Delaware, District of Columbia, Illinois, Indiana, Kansas, Kentucky, Maryland, Missouri, Nebraska, Nevada, New Jersey, New Mexico, North Carolina, Ohio, Oklahoma, Pennsylvania, Tennessee, Virginia and West Virginia.
Zone C: Alaska, Colorado, Connecticut, Idaho, Iowa, Maine, Massachusetts, Michigan, Minnesota, Montana, New Hampshire, New York, North Dakota, Oregon, Rhode Island, South Dakota, Utah, Vermont, Washington, Wisconsin and Wyoming.
| Make | Model | Years | Limited To |
| --- | --- | --- | --- |
| Audi | A3 | 2006-2013 | |
| | A4 | 2004-2008 | Zone A, B |
| | A4 Avant | 2005-2008 | |
| | | 2009-2011 | Zone C |
| | A4 Cabriolet | 2009 | Zone B |
| | | 2009 | Zone C |
| | | 2006-2009 | |
| | A4 Sedan | 2005-2008 | Zone B |
| | A5 Cabriolet | 2010-2011 | |
| | A6 | 2005-2011 | Zone A |
| | | 2005-2008 | Zone B |
| | A6 Avant | 2009-2011 | Zone B |
| | | 2006-2008 | |
| | A6 Sedan | 2009-2011 | Zone B |
| | | 2009-2011 | Zone C |
| | | 2005-2008 | |
| | Q5 | 2009-2012; 2015 | |
| | RS4 Cabriolet | 2008 | |
| | RS4 Sedan | 2007-2008 | |
| | S4 Avant | 2005-2008 | |
| | S4 Cabriolet | 2009 | Zone B |
| | | 2009 | Zone C |
| | | 2007-2008 | |
| | S4 Sedan | 2005-2008 | |
| | S6 | 2007-2008 | |
| | S6 Sedan | 2009-2011 | Zone B |
| | | 2009-2011 | Zone C |
A few notes about zones:
A vehicle can be recalled in more than one zone.
When no zone is defined, the recall was more widespread. Possibly internationally.
If you find this all very confusing, you're not alone my friend.
Generations Where This Problem Has Been Reported
This problem has popped up in the following Audi generations.

Most years within a generation share the same parts and manufacturing process. You can also expect them to share the same problems. So while it may not be a problem in every year yet, it's worth looking out for.
Further Reading
A timeline of stories related to this problem. We try to boil these stories down to the most important bits so you can quickly see where things stand. Interested in getting these stories in an email? Signup for free email alerts for your vehicle over at CarComplaints.com.
About 217,000 Audi vehicles will be recalled to replace passenger-side airbag inflators that could explode and send pieces of metal into vehicle occupants.

"The recall is part of massive Takata airbag recalls ordered by the National Highway Traffic Safety Administration consisting of 35-40 million vehicles in addition to about 29 million vehicles already recalled."…

keep reading

article "A4 and A6 Need New Takata Inflators"

VW has issued a recall for 850,000 vehicles with defective Takata airbag inflators, 170,000 of which belong to Audi.

"Volkswagen says the driver's side frontal airbags use "non-desiccated" SDI and PSDI-5 Takata inflators. Non-desiccated simply means they aren't protected from moisture. That moisture is at the heart of the exploding airbags, as it's believed moisture affects the explosive chemical used to deploy the airbags."…

keep reading

article "Audi Part of VW's 850,000 Vehicle Takata Recall"

VW says 734 model year 2015 Volkswagen Tiguan and Audi Q5 vehicles have seat-mounted airbags that could explode on the front driver or passenger side.

"In June 2015, VW learned of an accident involving a 2015 Volkswagen Tiguan where the Takata side airbag inflator exploded and injured the driver under the left arm. VW later ordered a large scale analysis of airbag parts after two failed tests occurred at Takata."…

keep reading

article "Audi Q5 Seat-Mounted Takata Airbags Recalled"

No Audi vehicles have been recalled for Takata airbags ... yet.

But news of another death caused by the defective inflators has the community on edge.

"NHTSA says the death occurred to a teenage boy who was behind the wheel of a 2001 Honda Accord. Early reports suggest the boy was only 13 and had taken the car for an unauthorized joy ride, running off the road and striking a tree."

keep reading

article "Takata Airbag Death Toll at 9"
OK, Now What?
Maybe you've experienced this problem. Maybe you're concerned you will soon. Whatever the reason, here's a handful of things you can do to make sure it gets the attention it deserves.
File Your Complaint

CarComplaints.com is a free site dedicated to uncovering problem trends and informing owners about potential issues with their cars. Major class action law firms use this data when researching cases.

Add a Complaint

Notify CAS

The Center for Auto Safety (CAS) is a pro-consumer organization that researches auto safety issues & often compels the US government to do the right thing through lobbying & lawsuits.

Notify The CAS

Report a Safety Concern

The National Highway Traffic Safety Administration (NHTSA) is the US agency with the authority to conduct vehicle defect investigations & force recalls. Their focus is on safety-related issues.

Report to NHTSA