Damaged Interior From Leaking Sunroof
Posted on

Author

Tagged
Key Points
Audi sunroofs are leaking, leading to soaked headliners and short-circuiting of electronics.
The leaks are likely due to stress cracks found in the plastic water channel around the sunroof.
A ton of TSBs have been released explaining the problem, but no compensation or help has been offered.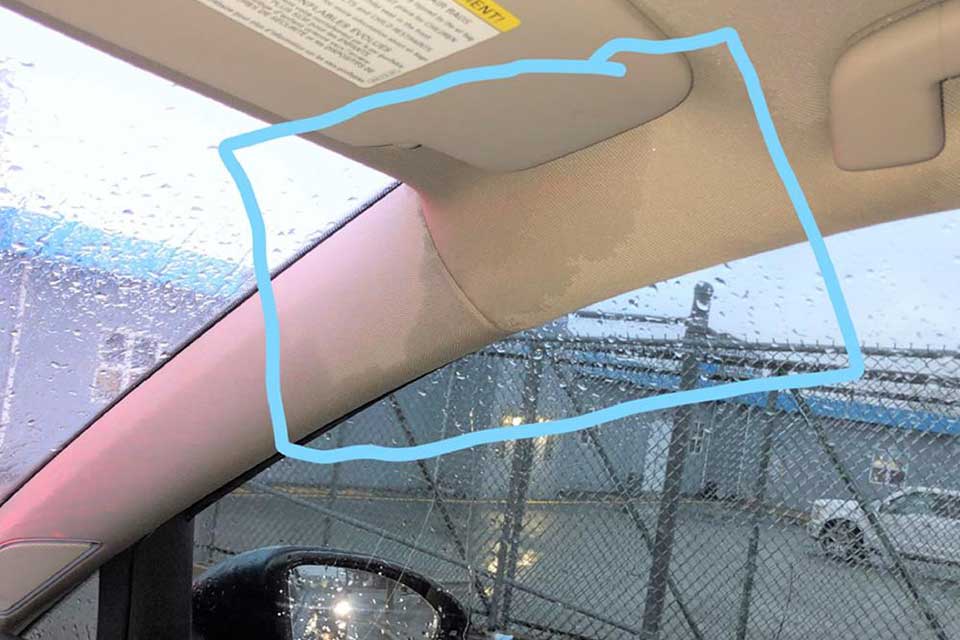 One of the most common complaints about sunroofs is that they leak, likely due to a problem with the drainage system that is meant to divert water and drain it away safely.
That's because water is extremely damaging and even a small leak can be an absolute nightmare for owners.
And yet, for some reason Audi has sold cars since the 2016 model year with the same leaky panoramic sunroofs. This includes the A1, A3, TT, Q2, and Q3.
The Sunroof Design Defect ∞
Multiple problems can be found with the panoramic sunroofs sold by Volkswagen Group, parent company of Audi, over the last handful of years.
Most notably is stress cracks found in the plastic water channel that runs around the sunroof itself. The channel has a different expansion rate than its steel reinforced brackets, causing cracks where the two pieces meet.
It doesn't take much of a crack for water to leak through.
Other defects include an incorrectly assembled rear drain that owners say is "pinched shut" over time. And poorly designed outer sunroof seals that don't properly adhere to the car body.
Warranty claims for sunroof problems are usually denied ∞
Owners say that most, if not all, warranty claims related to the sunroof are denied by Audi.
It's a bad look, especially given the "People First" bumper-to-bumper limited warranty that came about following the dieselgate scandal.
So much for restoring consumer confidence.
It's More Than Just Leaks ∞
Water is shockingly destructive. In addition to paying for any repairs related to the sunroof itself, owners are often left paying for other expensive repairs to soaked headliners.
Water also creates the perfect environment for mildew smells and mold spores.
As water builds up inside the car it can create an excessive and dangerous amount of interior condensation.
Finally, the water can damage sensitive electrical equipment and has been blamed for stopping cars dead-in-their-tracks while driving down the highway.
Technical Bulletins, Tech Tips, and Other Communications ∞
Unlike warranty claims, Audi can't deny knowing about the problem.
Complaints started rolling in soon after the release of the 2016 A1, A3, and TT. That led to an uptick in warranty claims, and replacement parts being ordered.
A Series of TSBs ∞
Most damaging of all is the 20+ service bulletins, "tech tips," and special campaigns VW Group has sent through the years. It's a long list so get comfy.
September 2016 one of the first TSBs titled PANORAMIC SUNROOF INSPECTION AND REPAIR PROCEDURE is sent along with repair kits and sealant.
October 2016 a second TSB #2045672 titled Water Leaks from the Rear of the Panoramic Sunroof, was released telling dealers how to inspect and replace the rear sunroof drain hoses and ensure the correct routing of those hoses.
November 2016 VW Group sent a "tech tip" to service technicians titled Sunroof Concern Diagnostic Tree to address Water Leaks, Wind Noise, Mechanical Concerns. The tip acknowledged the technician may not be able to replicate the issue, but they should clean the drains and adjust the sunroof glass just in case.
November 2016 VW Group issued a TSB concerning "Water Leak from Panoramic Sunroof" To date none of the TSBs reference Audi vehicles directly.
December 2016 New month, new TSB with more repair kits and sealant.
January 2017 VW issued Special Notice SM 14-2016 to "inform dealers to return all sunroof repair kits" labeled 5GM898041, and to order repair kit 5GM898041A including those sent in December and September 2016. Whoopsies.
February 2017 VW issued a TSB clarifying the models, VIN range, and instructions for applying of additional foil patches to prevent leaks.
August 2017 VW issued an "Important Notice to Dealers – For Immediate Distribution" to inform dealers about an upcoming update that would provide specific repair instructions on sunroofs. Dealerships were told they cannot sell vehicles from their lots until the update is completed. Customers were not notified about any such repair.
August 2017 Later that month VW issued a 2015-2017 Golf and Golf GTI TSB telling dealers to "[p]erform this UPDATE on all applicable vehicles within New Vehicle Limited Warranty." Once again it was mandatory to complete the repairs for any vehicle on the lot, but not customers who came in with complaints.
September 2017 The Golf Alltrack was added to the list of previously covered models. Once again, no Audi models were mentioned.
March 2020 A letter is sent to a small number of owners providing them with details of a "special service" that provides cleaning and modification of the front sunroof drain.
OK, so you get the idea. In fact there's three more sunroof TSBs, three Tech Tips, three Service Actions, one Special Notice, and one Important Notice. All of which allegedly show the VW sunroofs are defective.
A Series of Lawsuits ∞
It should come as no surprise that VW Group has been sued over this problem multiple times. The lawsuits all boil down to the same grievances.
There are defects in the design and manufacturing of the sunroof drainage systems
VW Group has issued multiple technical service bulletins about preventing water leaks from their panoramic sunroofs, but have only offered a "cleaning and modification" service to a small number of owners.
The defect leads to considerable damage to interior components, such as the headliner and sensitive electrical components
VW fails to honor their warranty when making repairs related to the defective sunroof drainage system.
In December 2019, the first lawsuit, Gjonbalaj, et al., v. Volkswagen Group of America, et al. was filed in the Eastern District of New York. A second lawsuit, Cole, et al., v. Volkswagen Group of America, et al. followed in March 2020 in the Northern District of California.
The following Audi vehicles have been mentioned in these lawsuits.
2015-present Audi A1
2015-present Audi A3
2015-present Audi TT
2015-present Audi Q2
2015-present Audi Q3
Lawsuits Regarding This Problem
Lawsuits about this problem have already been filed in court. Many times these are class-action suits that look to cover a group of owners in a particular area. Click on the lawsuit for more information and to see if you're eligible to receive any potential settlements.
A VW/Audi sunroof class action lawsuit alleges California customers must cope with leaking sunroofs that cause water damage to carpets, audio systems, electronics and multiple parts of the interiors.

The sunroof leak lawsuit alleges the sunroofs were defectively designed and manufactured due to their drainage systems and seals. In addition, the automaker allegedly doesn't honor warranties when water leaks occur on these vehicles.
Generations Where This Problem Has Been Reported
This problem has popped up in the following Audi generations.

Most years within a generation share the same parts and manufacturing process. You can also expect them to share the same problems. So while it may not be a problem in every year yet, it's worth looking out for.
Further Reading
A timeline of stories related to this problem. We try to boil these stories down to the most important bits so you can quickly see where things stand. Interested in getting these stories in an email? Signup for free email alerts for your vehicle over at CarComplaints.com.
A proposed class-action filed in the Easter District of NY is fed up with Audi (and it's parent company Volkswagen Group) denying warranty claims for leaky, panoramic sunroofs.

The lawsuit lists a long line of TSBs that talk about problems with the sunroof drainage systems. They even give dealerships tips on how to repair the issue on unsold inventory, but they won't honor warranty claims asking for the same repair.…

keep reading

article "Audi's Warranty is Useless For Leaky Sunroofs, Says Lawsuit"
OK, Now What?
Maybe you've experienced this problem. Maybe you're concerned you will soon. Whatever the reason, here's a handful of things you can do to make sure it gets the attention it deserves.
File Your Complaint

CarComplaints.com is a free site dedicated to uncovering problem trends and informing owners about potential issues with their cars. Major class action law firms use this data when researching cases.

Add a Complaint

Notify CAS

The Center for Auto Safety (CAS) is a pro-consumer organization that researches auto safety issues & often compels the US government to do the right thing through lobbying & lawsuits.

Notify The CAS

Report a Safety Concern

The National Highway Traffic Safety Administration (NHTSA) is the US agency with the authority to conduct vehicle defect investigations & force recalls. Their focus is on safety-related issues.

Report to NHTSA